Orlando Airport Wifi
A Free Wi-Fi Service is provided by the Greater Orlando Aviation Authority (GOAA) around all public areas of the airport and is absolutely free of charge.
MCO Wifi
Many airports around the globe provide free Wifi access to travellers, but at some Airport the service is generally paid for. Fortunately, Orlando airport is one of the airport which provides Free Wifi access to the passengers.
Some of the Paid Internet service providers which gives wifi access to travellers at airport such as T-Mobile, Sprint, AT&T, and Verizon.
How to Connect to Orlando Airport WiFi (MCO)
You can Connect to Free Wifi at Orlando Airport in easy 3 steps:
| | |
| --- | --- |
| Step 1 | Go to your WiFi settings |
| Step 2 | Look for SSID named: MCO Internet |
| Step 3 | Click on MCO Internet and Enjoy Free Wifi |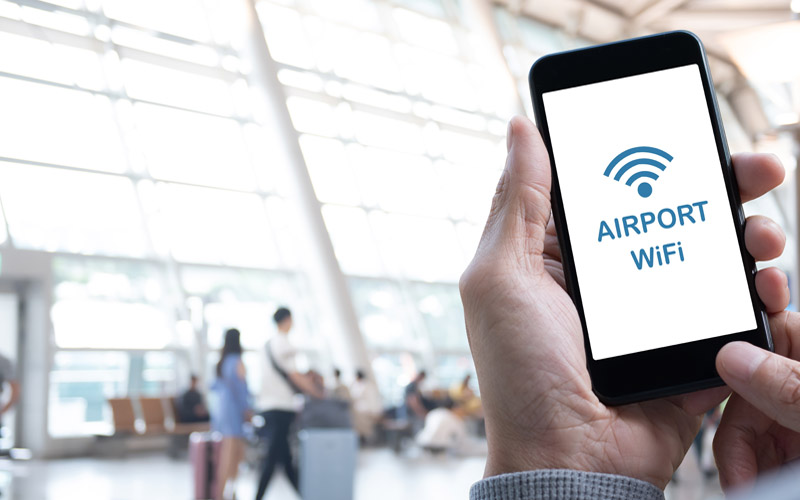 How to Connect to Orlando Airport WiFi on iOS or Apple Device
You can Connect to Free Wifi at Orlando Airport in easy steps:
| | |
| --- | --- |
| Step 1 | Go to Wi-Fi settings from Home screen |
| Step 2 | Toggle on Wi-Fi |
| Step 3 | Select MCO Internet from options to connect |
| Step 4 | And Enjoy Free Wifi and do Streaming |
How to Connect to Orlando Airport (MCO) WiFi on Mac
You can Connect to Free Wifi at Orlando Airport in easy steps:
| | |
| --- | --- |
| Step 1 | Click the WiFi icon on the menu bar |
| Step 2 | Turn on the WiFi |
| Step 3 | Select MCO Internet |
| Step 4 | Click to connect to the network |
How to Connect to Orlando Airport WiFi on Android
You can Connect to Free Wifi at Orlando Airport in easy steps:
| | |
| --- | --- |
| Step 1 | Go to your Android Settings |
| Step 2 | Open Wi-Fi under Wireless & Networks |
| Step 3 | Select and tap MCO Internet to connect |
| Step 4 | And Enjoy Free Wifi |
How to Connect to Orlando Airport (MCO) WiFi on Windows Laptop
You can Connect to Free Wifi at Orlando Airport in easy steps:
| | |
| --- | --- |
| Step 1 | Turn On wifi on Laptop |
| Step 2 | Search for MCO Internet under Network and setting popup |
| Step 3 | Tap on MCO Internet |
| Step 4 | No Security key Required it will Connect Automativcall and enjoy Internet for free. |