Restaurants in Orlando Airport
Our Orlando Airport Food Guide contains information about Location, hours of operation and what they serves.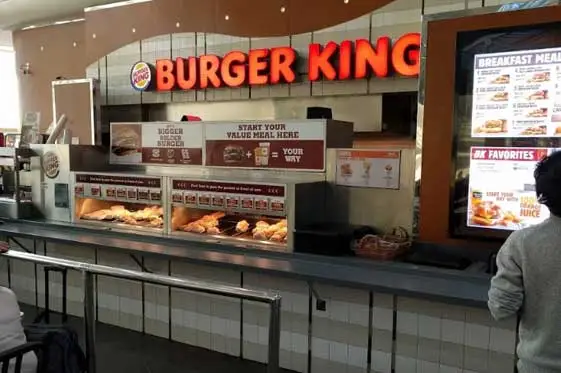 Best Places to Eat at Orlando Airport – Terminal Food Map
Want to grab a quick bite while you wait for your flight at the airport, or do you want to sit and have a fine dining experience during a layover? There are plenty of options available at the Orlando International Airport.
Restaurants in MCO Airport
From popular fast food chains like McDonald's and KFC, you can find the usual available at the airport such as Starbucks, Dunkin' Donuts, Auntie Anne's, Chili's Too, and Cinnabon. For a fine dining experience, there are many upscale restaurants at Orlando Airport premised.
There are more than hundreds of eateries option at the airport with delivery options. Let's have a look at some of the restaurants that you can visit at Orlando International Airport (MCO).
Restaurants at Terminals A & B (Pre-Security)
| Restaurant Name | Location | Time | Serves | Phone no. | Website |
| --- | --- | --- | --- | --- | --- |
| Auntie Anne's | Terminals A & B – Food Court | 6:00am – 10:00pm | Pretzels | 407-825-8269 | https://www.auntieannes.com/ |
| Carvel | Terminals A & B – Food Court | 6:00am – 10:00pm | Ice Cream | 407-825-8268 | https://www.carvel.com/ |
| Chick-fil-A | Terminals A & B – Food Court | 5:00am – 10:00pm (Mon – Sat) | Chicken Nuggets & Sandwiches | 407-825-8270 | https://www.chick-fil-a.com/ |
| Chili's Too | Terminals A & B – West Hall | 10:00am – 8:00pm | Grill & Bar | 407-825-8266 | https://www.chilis.com/ |
| Cinnabon | Terminals A & B – Food Court | 6:00am – 10:00pm | Cinnamon Rolls | 407-825-8269 | https://www.cinnabon.com/ |
| City Pub | Terminals A & B – West Hall | 6:00am – 10:00pm | Sports Bar | 407-825-8267 | – |
| Dunkin' Donuts | Terminals A & B – North Walk | 4:30am – 10:00pm | Coffee & Donuts | 407-825-2399 | https://www.dunkindonuts.com/ |
| Firehouse Subs | Terminals A & B – Food Court | 6:00am – 10:00pm | Sandwiches | 407-825-8269 | https://www.firehousesubs.com |
| Hemisphere | Terminals A & B – East Hall | 5:00pm – 10:00pm (Tue-Sat) | Steak & Seafood | 407-825-1344 | https://hemisphereorlando.com/ |
| Lobby Bar | Terminals A & B – East Hall | 12:00pm – 11:59pm | Small Plates & Beverages | 407-825-1234 | – |
| Macaroni Grill | Terminals A & B – West Hall | 11:00am – 10:00pm | Italian | 407-825-8267 | https://www.macaronigrill.com/ |
| McCoys Bar & Grill | Terminals A & B – East Hall | 7:00am – 11:59pm | American Cuisine & Sushi | (407) 825-1234 | https://www.hyatt.com/en-US/hotel/florida/hyatt-regency-orlando-international-airport/orlan/dining |
| McDonald's | Terminals A & B – Food Court | 5:00am – 12 midnight | Burgers | 407-825-7331 | https://www.mcdonalds.com/us/en-us.html |
| Moe's Southwest Grill | Terminals A & B – Food Court | 6:00am – 10:00pm | Tex-Mex | 407-825-8268 | https://www.moes.com/ |
| Panda Express | Terminals A & B – Food Court | 9:00am – 9:00pm | Chinese Cuisine | 407-825-3180 | https://www.pandaexpress.com/ |
| Sbarro | Terminals A & B – Food Court | 6:00am – 10:00pm | Pizza | 407-825-8270 | https://sbarro.com/ |
| Starbucks | Terminal A, Level 2 | 6:00am – 10:00pm | Coffee & Tea | 407-825-8281 | https://www.starbucks.com/ |
| Starbucks | Terminal B, Level 1 | 6:00am – 10:00pm | Coffee & Tea | 407-825-8284 | https://www.starbucks.com/ |
| Starbucks | Terminals A & B – East Hall | 4:30am – 10:00pm | Coffee & Tea | 407-825-8271 | https://www.starbucks.com/ |
Restaurants at Gates 1-29 (Post-Security)
| Restaurant Name | Location | Time | Serves | Phone no. | Website |
| --- | --- | --- | --- | --- | --- |
| Burger King | Gates 1-29, Food Court | 4:00am – Last Flight | Burgers | 407-825-2854 | https://www.bk.com/ |
| Cold Stone Creamery | Gates 1-29, Food Court | 4:00am – Last Flight | Ice Cream | 407-825-2854 | https://www.coldstonecreamery.com/ |
| Famous Famiglia | Gates 1-29, Food Court | 4:00am – Last Flight | Pizzeria | 407-825-2854 | https://famousfamiglia.com/ |
| La Madeleine | Gates 1-29, Food Court | 4:00am – Last Flight | Cafe & Bakery | 407-825-2854 | https://lamadeleine.com/ |
| Le Grand Comptoir | Gates 20-29 | 5:00am – Last Flight | Wine Bar | 407-825-7850 | https://www.foodtravelexperts.com/america/brands/ |
| On The Border | Gates 1-29 | 6:00am – Last Flight | Mexican Grill & Cantina | 407-825-2922 | https://www.ontheborder.com/ |
| Starbucks | Gates 1-29 | 4:00am – Last Flight | Coffee & Tea | 407-825-2920 | https://www.starbucks.com/ |
| The Club MCO | Gates 1-29 | 5:00am – 10:00pm | Airport Lounge | (407) 825-7853 | https://theclubairportlounges.com/collections/orlando-international-airport |
| UrbanCrave | Gates 1-9 | 5:30am – 9:00pm | Street Cuisine | 407-825-7850 | https://www.foodtravelexperts.com/america/brands/ |
| Zaza | Gates 10-19 | 4:30am – Last Flight | Cuban Cafe | 407-825-2847 | https://zazacubandiner.com/ |
Restaurants at Gates 30-59 (Post-Security)
| Restaurant Name | Location | Time | Serves | Phone no. | Website |
| --- | --- | --- | --- | --- | --- |
| Admiral's Club | Gates 30-59 | 4:00am – 8:15pm | Airline Lounge | – | https://www.aa.com/i18n/travelInformation/airportAmenities/mco-club.jsp |
| Camden Food Co | Gates 40-49 | 6:00am – 7:00pm | Gourmet Market | 407-825-7850 | https://www.foodtravelexperts.com/america/brands/ |
| Camden Food Co | Gates 50-59 | 6:00am – 6:00pm | Gourmet Market | 407-825-7850 | https://www.foodtravelexperts.com/america/brands/ |
| Freshens | Gates 30-59, Food Court | 8:00am – 8:00pm | Smoothies & Yogurt | 407-825-4023 | https://www.paradieslagardere.com/activities/dining-division |
| Manchu Wok | Gates 30-59, Food Court | 8:00am – Last Flight | Chinese Cuisine | 407-825-4125 | https://manchuwok.com/ |
| Nature's Table | Gates 30-59, Food Court | 4:00am – 9:00pm | Salads, Sandwiches & Bowls | 407-825-4024 | https://www.paradieslagardere.com/activities/dining-division |
| Qdoba | Gates 30-59, Food Court | 3:00am – 9:00pm | Mexican Grill | 407-825-4139 | https://www.areas.com |
| Ruby Tuesday | Gates 30-59 | 6:00am – 9:30pm | American Cuisine | 407-825-2286 | https://areas.com/en/ |
| Ruby Tuesday To Go | Gates 30-59 | 3:00am – 9:30pm | American Cuisine | 407-825-2286 | https://areas.com/en/ |
| United Club | Gates 30-59 | 5:00am – 8:00pm | Airline Lounge | – | https://www.united.com/en/us/fly/travel/airport/united-club-and-lounges/locations.html |
| Wendy's | Gates 30-59 | 6:00am – Last Flight | Burgers | 407-825-4128 | https://www.paradieslagardere.com/activities/dining-division |
| Zaza | Gates 30-59 | 4:30am – Last Flight | Cuban Cafe | 407-825-3430 | https://zazacubandiner.com/ |
| Zaza | Gates 30-39 | 4:30am – Last Flight | Cuban Cafe | 407-825-3430 | https://zazacubandiner.com/ |
Restaurants at Gates 70-99 (Post-Security)
| Restaurant Name | Location | Time | Serves | Phone no. | Website |
| --- | --- | --- | --- | --- | --- |
| Auntie Anne's | Gates 70-99 | 7:00am – Last Flight | Pretzels | 407-990-0386 | https://www.auntieannes.com/ |
| Bahama Breeze | Gates 70-99 | 4:00am – Last Flight | Caribbean Inspired Cuisine | 407-825-8292 | https://www.bahamabreeze.com/home |
| Carvel | Gates 70-99 | 4:00am – Last Flight | Ice Cream | 407-825-2841 | https://www.carvel.com/ |
| Cibo Express | Gates 70-79 | 5:00am – Last Flight | Gourmet Market | – | https://www.ciboexpress.com/ |
| Cibo Express | Gates 80-89 | 5:00am – Last Flight | Gourmet Market & Bar | – | https://www.ciboexpress.com/ |
| Cibo Express | Gates 90-99 | 5:30am – Last Flight | Gourmet Market & Bar | – | https://www.ciboexpress.com/ |
| Delta Sky Club | Gates 70-99 | 4:30am – 8:00pm | Airline Lounge | – | https://www.delta.com/us/en/airports/united-states/orlando-sky-club-airport-map |
| MCO | MKT | Gates 70-99 | 4:00am – Last Flight | Soups, Salads & Sandwiches | – | https://www.hmshost.com/brands/mkt |
| Nathan's | Gates 70-99 | 4:00am – Last Flight | Hot Dogs | 407-825-2841 | https://www.nathansfamous.com/ |
| Outback | Gates 70-99 | 4:00am – Last Flight | Steaks | 407-828-7418 | https://www.outback.com/ |
| Outback Outpost | Gates 70-99 | 4:00am – Last Flight | Steaks | 407-828-7418 | https://www.outback.com/ |
| Starbucks | Gates 70-99 | 4:00am – Last Flight | Coffee & Tea | 407-825-6431 | https://www.starbucks.com/ |
| Tacos Locos | Gates 70-99 | 4:00am – Last Flight | Tacos | 407-825-8245 | – |
| The Club MCO | Gates 70-99 | 5:00am – 9:00pm | Airport Lounge | 407-825-4747 | https://theclubairportlounges.com/collections/orlando-international-airport |
| Vino Volo | Gates 70-99 | 9:00am – 9:00pm | Wine Bar | 321-3193690 | https://www.vinovolo.com/ |
Restaurants at Gates 100-129 (Post-Security)
| Restaurant Name | Location | Time | Serves | Phone no. | Website |
| --- | --- | --- | --- | --- | --- |
| Asian Chao | Gates 100-129 | 8:00am – Last Flight | Chinese Cuisine | – | https://www.foodsystemsunlimited.com/asian-chao.html |
| Auntie Anne's | Gates 100-129 | 7:00am – Last Flight | Pretzels | 407-990-0385 | https://www.auntieannes.com/ |
| Bananas | Gates 100-129 | 5:00am – Last Flight | Smoothies & Frozen Yogurt | – | https://www.greenleafsbananas.com/home |
| Cask & Larder | Gates 100-129 | 7:00am – Last Flight | Southern Kitchen & Brewery | 407-204-3296 | https://www.caskandlarder.com/ |
| Cask & Larder Bar | Gates 100-129 | 7:00am – Last Flight | Bar | 407-204-3296 | https://www.caskandlarder.com/ |
| Cask & Larder Market | Gates 100-129 | 5:00am – Last Flight | Grab and Go Food Items | 407-204-3296 | https://www.caskandlarder.com/ |
| Chipotle | Gates 100-129 | 8:00am – Last Flight | Mexican Grill | – | https://chipotle.com/ |
| FarmAir Market/To Go | Gates 100-109 | 5:00am – Last Flight | Grab & Go Food Items | 407-825-6688 | https://www.caskandlarder.com/ |
| FarmAir Market/To Go | Gates 120-129 | 5:00am – Last Flight | Grab & Go Food Items | 407-825-6688 | https://www.caskandlarder.com/ |
| FarmAir Restaurant/Bar | Gates 100-109 | 5:00am – Last Flight | Farm to Terminal Cuisine | 407-825-6688 | https://www.caskandlarder.com/ |
| FarmAir Restaurant/Bar | Gates 120-129 | 5:00am – Last Flight | Farm to Terminal Cuisine | 407-825-6688 | https://www.caskandlarder.com/ |
| Green Leaf's | Gates 100-129 | 6:00am – Last Flight | Salads | – | https://www.greenleafsbananas.com/home |
| Jersey Mike's | Gates 100-129 | 5:00am – Last Flight | Sandwiches | – | https://www.jerseymikes.com/ |
| Market by Villa | Gates 100-129 | 5:00am – Last Flight | Gourmet Market | – | https://www.villarestaurantgroup.com/ |
| McDonald's | Gates 100-129 | 5:30am – 10:00pm | Burgers | – | https://www.mcdonalds.com/us/en-us.html |
| Starbucks | Gates 100-129 | 4:00am – Last Flight | Coffee & Tea | 407-825-6680 | https://www.starbucks.com/ |
| Villa Italian Kitchen | Gates 100-129 | 5:00am – Last Flight | Italian Pasta & Pizza | – | https://www.villaitaliankitchen.com/home |
Restaurants at Terminal C (Pre-Security)
| Restaurant Name | Location | Time | Serves | Phone no. | Website |
| --- | --- | --- | --- | --- | --- |
| Barnie's Coffee & Tea | Terminal C – Baggage Claim | 6:00am – 12midnight | Coffee & Tea | – | https://www.barniescoffee.com/ |
| Eola Market | Terminal C – GTF Bridge | 24 Hours | Grab and Go Snacks | – | – |
| Harvest & Grounds | Terminal C – Ticketing | 3:30am – Last Departing Flight | Coffee & Snacks | – | – |
| Raw Juce | Terminal C – Ticketing | 3:30am – Last Departing Flight | Organic Food | – | https://rawjuce.com/ |
| The Scoop | Terminal C – Ticketing | 4:30am – 9:00pm | News & Gifts | – | – |
| Starbucks | Terminal C – Baggage Claim | 8:00am – 1:00am | Coffee & Tea | 407-825-6133 | https://www.starbucks.com/ |
Restaurants at Terminal C (Post-Security)
| Restaurant Name | Location | Time | Serves | Phone no. | Website |
| --- | --- | --- | --- | --- | --- |
| Auntie Anne's | Terminal C – Palm Court | 4:00am – Last Departing Flight | Pretzels | – | https://www.auntieannes.com/ |
| Cask & Larder Bar | Terminal C – Palm Court | 5am – last flight | Bar | – | https://www.caskandlarder.com/ |
| Cask & Larder Provisions | Terminal C – Palm Court | 5am – last flight | Grab & Go Food Items | – | https://www.caskandlarder.com/ |
| Chick-fil-A | Terminal C – Palm Court | 4:00am – Last Flight (Mon – Sat) | Chicken Nuggets & Sandwiches | – | https://www.chick-fil-a.com/ |
| Cucina & Co. | Gates 230-239 | 3:30am – Last Departing Flight | Italian | – | – |
| DeSano Pizzeria | Terminal C – Palm Court | 6:00am – Last Departing Flight | Neapolitan Pizza | – | https://desanopizza.com/ |
| Einstein Bros. Bagels | Gates C230-C238 | 6:00am – 7:00pm | Bagels & Coffee | – | https://www.einsteinbros.com/ |
| Greenbeat | Terminal C – Palm Court | 6:00am – Last Departing Flight | Salads & Bowls | – | https://www.green-beat.com/ |
| Main Streets Market | Gates C230-C238 | 4:30am – 10:00pm | Grab & Go Food Items | 702-809-0968 | – |
| Olde Hearth Bread Co. | Terminal C – Palm Court | 5:00am – Last Flight | Breads, Pastries, Sandwiches & Coffee | – | https://oldehearthbreadcompany.com/ |
| Orange County Brewers | Gates C240-C245 | 4:00am – Last Departing Flight | Bar & Bites | 407-825-6156 | https://www.theocbrewers.com/ |
| Orlando Brewing | Gates C230-C238 | 5:00am – Last Departing Flight | Bar & Bites | – | https://www.orlandobrewing.com/ |
| PGA Tour Grill (Coming Soon) | Terminal C – Palm Court | Opening 2022 | Healthy Eating for Active Lifestyles | 407-825-6154 | https://www.hmshost.com/brands/pga-tour-grill |
| Plaza Premium Lounge | Terminal C – Palm Court | 7:00am-11:00pm | Airport Lounge | – | https://www.plazapremiumlounge.com/ |
| Replenish w/Illy Coffee | Gates C240-C245 | 4:30am – Last Departing Flight | Coffee & Tea | 702-807-1928 | – |
| Shake Shack | Terminal C – Palm Court | 4:00am – Last Departing Flight | Burgers, Fries, Shakes & Floats | 407-825-6138 | https://shakeshack.com/home#/ |
| Starbucks | Terminal C – Palm Court | 4:00am – Last Departing Flight | Coffee & Tea | 407-825-6134 | https://www.starbucks.com/ |
| Summer House | Terminal C – Palm Court | 5:00am – Last Flight | Florida Fresh Food & Drinks | – | – |
| Sunshine Diner | Gates C230-C238 | 5:00am – last departing flight | Southern-Floridian Restaurant & Bar | – | https://www.chefartsmith.com/sunshine-diner |
| Wine Bar George | Terminal C – Palm Court | 5:00am – Last Departing Flight | Wine Bar | – | https://www.winebargeorge.com/ |