Immigration at Orlando International Airport
Orlando Airport Immigration
Travelers arriving at Orlando International Airport on international flights have to go through a few security checks before exiting the airport premises. MCO's customs and immigration hall is staffed, managed, and operated by U.S Customs and Border Protection (CBP). Orlando International Airport facility has recently installed over 20 Automated Passport Control (APC) kiosks to expedite the processing of international travelers. The kiosks allow passengers to complete their Customs declaration form, and scan passports, fingerprints, and photographs captured in just minutes.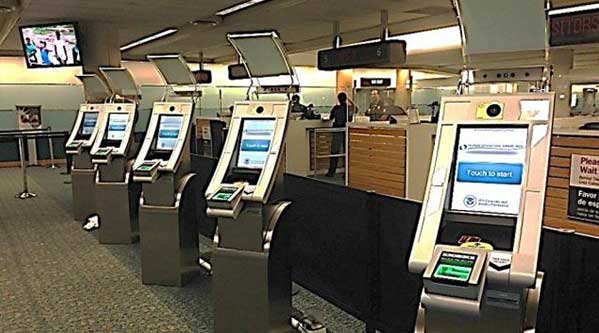 If you don't know about the process when it comes to Customs and Immigration, documents verification, or baggage claim, this step-by-step guide is for you to help usher through the arrival process.
Check out the following steps to know about the process once you have safely landed in Florida, United States of America.
Firstly, upon exiting the flight in Orlando, Florida, passengers traveling from a foreign country will be required to clear U.S. Customs & Immigration. Passengers landing at MCO are requested to have their passports and other important documents available for examination.
In support of digitization, Orlando Airport uses Biometric screening technology to expedite clearance through customs and immigration. Global Entry kiosks and the CBP Mobile Passport App are also available for eligible passengers.
After clearing customs and immigration inspection, passengers can claim their baggage at the baggage carousel and then proceed toward the exit gate.
After exiting the customs and immigration office travelers can either keep their checked bags with themselves or have them transferred to the main terminal, then proceed up to the Automated People Mover (APM) station.
Take the escalator or stairs up to level 1 and board the APM to the main terminal building.
It takes just over one minute to get to the main terminal. Pay attention to the signage and announcements directing you to proceed to either Baggage Claim A or Baggage Claim B
Upon arrival on Level 3 of the main terminal, look for the signboards indicating the A and B sides of the terminal.
Lastly, take the stairs, escalator, or elevator down to Level 2 or Level 1 for baggage claim and ground transportation.
For detailed information on immigration and customs, contact the United States embassy or consulate in the country of origin or departure.